Cleaning Tricks and Tips to Make Your Chores Simple
14 November 2013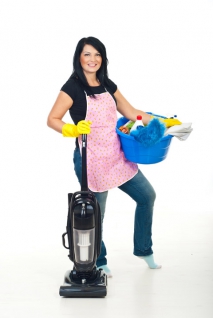 Cleaning your home or workplace is a tough chore. It requires many hours of work and for you to commit lots of energy to getting things done. You hate to waste time on such a task, especially as you may have dozens of other more important things to take care of, but it is necessary. A dirty, dusty and disorganised building means you can't relax, feel safe, get work done, or whatever and so you must be willing to put in all the work necessary to complete the chore. If you want to make things easier though, all you have to do is read on and gain some tips and tricks to make the entire process simpler and go quicker.
In any building, whether it's your home or office, you will likely have hundreds of goods. These will come in all shapes and sizes, cost different mounts and have a variety of uses. Over time, you will keep buying new things in order to replace old ones, or additional goods that can mean older objects getting pushed away. It can get to the point where you have too many things and they can clutter up the place as well as require you to clean them even though they are not necessary or needed. If you have such goods then you should get rid of them because it can bring many advantages.
Throwing unwanted items away is a simple process and is done every day. Once you have sorted through all of your goods and you have unwanted items that no longer work, are broken or badly damaged you can place them in bags and have them collected as part of your usual litter pick up. You can hire a skip if you have many goods or some are too large. Recycling is another option and it will get rid of these items as well as help the environment. You can make use of a regular collections service, deposit things in recycling bins scattered around your area or contact your local depot for support. If any of your unwanted goods are still in useable condition, don't throw them away too hastily, because they can be sold in order to earn you make extra cash or donated to help charity. If you hire storage unit you can place the items out of the way but still have access to them later if they are needed.
Creating a schedule will also help make your cleaning chores simpler. With an outline, you can assign certain tasks to specific days and times, ones that are most convenient for you. It also means that each task will be given appropriate time to complete and you don't have to worry about forgetting to do it. Use the schedule to assign chores to the members of your household/workplace and stock up on the items needed so the jobs can go smoothly.
Having wipes, cloths, mops, a vacuum, polish, dusters, detergent, etc. at hand means you can complete a job thoroughly and properly, as well as be ready for any mess that crops up. When a spill happens, dab it up then wipe what is left, brush up and a vacuum crumbs and keep everything disinfected to prevent the speared of germs. Buy only trusted brands so you know you are getting safe and quality goods. Never mix chemicals together, use them as instructed and in a well-ventilated environment.
With these tips, you can make your cleaning chores much simpler and have a clean and tidy abode, so follow them carefully and work hard.